As Liverpool ended their six year wait for Silverware after sneaking past Cardiff City, we take a look back at the game and pick out three things we have learnt from the first show-piece final of 2012.
Martin Skrtel – is finally maturing into the complete centre half
One of the most improved players in a red shirt this season has been the Slovakian international who has matured immensely and can be looked upon as Liverpool's Mr reliable.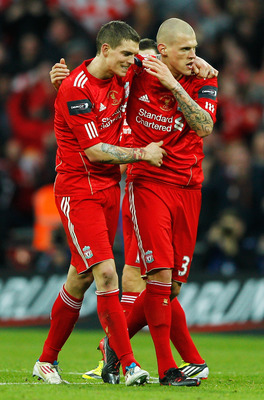 Daniel Agger & Martin Skrtel
This season was very much make or break for the twenty seven years old, who after four largely unimpressive campaigns came into this season needing to improve of face the exit at Anfield.
Finally he has been given the opportunity to form a partnership with Daniel Agger
A source of frustration for Liverpool fans he has added that bit of class to his overall game. The trust Kenny Dalglish has instilled into him cannot be underestimated, there was amble opportunity for him to sign a big name into the summer and move him on. Although he has kept him on his toes with the signing of the talented Sebastian Coates who has impressed in his outings this season.
He has contributed with goals from set pieces but crucially he is now reliable and no longer seen as a liability. At Tottenham he was dismissed in Liverpool's poorest showing of the campaign and it looked as if his early season promise would fade into just that.
He recovered from the early season set back and has put a run of impressive performances together. He looks calm cool and collected and alongside Agger Liverpool now looks to have a solid and reliable pairing at the back, something they have not had in recent seasons.
Dirk Kuyt - good things come to those who wait
He looked to have won the game for the reds in extra time as he smartly shot past Tom Heaton at the second attempt despite Cardiff's late equaliser he was not be denied his first piece of silverware at Liverpool.
Dirk Kuyt
An integral part of the team last season, he has had to make do with been very much a bit part player this season. Despite this he is still very much a man for the big occasion with a late winner in the FA Cup against United in January and at Wembley he came up big.
After his goal he held his cool from the spot at a key point in the shoot out after two earlier misses Liverpool needed him to deliver and his celebration proved how much he finally wanted to be the winner.
No one deserves success that Kuyt who unselfishly has worked tirelessly for the cause since his arrival from Feynoord in 2006. At the age of 31 his best years are certainly behind him. Certainly not the most naturally talented players who has ever worn the red shirt, despite his inefficiencies he has worked at his game and as a result has played in a World Cup and a Champions League final.
He has provided reds fans with a number of memorable memories including his hat-trick against Manchester United last season and his part in securing the Athens final of 2007.
One of the nicest men in football has been rewarded finally with a winners medal and no one looked happier than the Dutchman and I for delighted for him.
Cardiff
City - under Malky Mackay will flourish
They played a huge part in a memorable League Cup final and will have won over many fans with their passion and never say die attitude.
A fine early goal from the impressive Joe Mason stunned Liverpool into submission and showed that they were not there just to make up the numbers.
Joe Mason & Kenny Miller
Malky Mackay had talked up his side's ability throughout the build up and they certainly did him proud.
The centre half partnership of Ben Turner and Mark Hudson was hugely impressive and they will be pivotal if the Bluebirds are to finally make the step up to the top flight.
Aron Gunnarson ran the midfield and was on his last legs during extra time and looked very comfortable in the company of Steven Gerrard.
Many at the South Wales club will have seen the final as a 'nice' distraction and the manner of the defeat will hurt but the must out the hurt to one side and push for promotion.
Mackay's post match interview for me summed up the man 'what doesn't kill us will make us stronger.' What he has achieved in such a short space of time has been nothing short of remarkable and he is set for big things in the game.
Under his guidance Cardiff will come back from this stronger and he the man to finally end the long wait for promotion and join their Welsh rivals in the Premier League.