After a few weeks off to digest last season's goings on, with my season ticket purchased, Latics in a Nutshell returns just in time for the opening of the transfer window.
The immediate post season was an anxious affair for all concerned with the Latics, at one point it looked almost certain that manager Roberto Martinez would be on his way out. Two of the biggest names in England came calling, first of all Aston Villa, as they did twelve months earlier, asked the question, but were quickly rebuffed by Dave Whelan.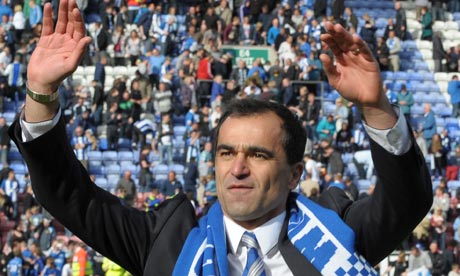 Roberto Martinez
That was just the start five times European Champions Liverpool were next to show an interest in
Martinez
. It seemed almost certain that he would be making the short move to Merseyside but in came Whelan. For a week or so we were all treated to the 'Dave Whelan' show, with minute by minute updates of his manager's movements, and for good measure he threw in the odd one liner. For me Whelan, is free to say what he likes about his club, he took us to the promise land and we are preparing for an eighth season upsetting the establishment.
Liverpool eventually decided to go with their 'first' choice Brendan Rodgers, who let's not forget really did just pick up where Martinez left from his time at Swansea.
Despite the constant presence of Adrian Chiles there was something comforting about seeing our man covering the Euros.
As for the playing staff despite the rumours, Hugo Rodallega left the club on a free and former number 1 Chris Kirkland joined Sheffield Wednesday. The main transfer saga looks set to be where will Victor Moses? His agent seems pretty adamant that he is moving, for me Moses is not half the player Antonio Valencia was when he left the Latics and will not improve his game by warming the bench up. One thing is certain Whelan will ensure we get very good money for him.
Victor Moses
As for comings in the Latics could well secure the services of a right back, with the aptly named Rod Fanni attracting some interest, also a winger is on the cards with Moses' likely move away.
Also with Maynor Figueroa being picked for the Olympics we could well need a left back to also provide cover for injury and so on. Defensive cover is key, the lads who saw the Latics through the run in will be key once again but cannot make it through a full season unscathed.
A striker is needed to share the workload with Franco Di Santo, I'm not convinced with Mauro Boselli and doubt he has the hunger and fight that will be needed.
With the pre season plans now outlined, the Latics are first up this season for Sky sports as we will all be making our way to the DW on Sunday the 19th of August, I for one cannot wait, weekends without football is just wrong.